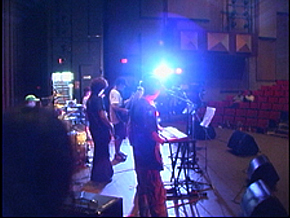 Rock On! Young Musicians Workshop is an intensive three week program of instrument instruction, playing in bands, songwriting,recording, and performing.
Rock On is a youth mentoring program in music performance and education that brings young musicians together under the guidance of professionals to learn to play in bands. Founded in 2003, Rock On sponsors an annual two-week summer program at Berkshire Community College and a new after-school program at the Boys and Girls Club of the Berkshires in Pittsfield, MA.
Mission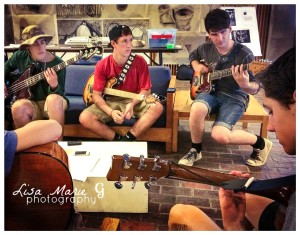 Our mission is to provide professional training for youth in an atmosphere that promotes collaboration, creativity, and performance. Over the past 10 years, Rock On has created a community of students and mentors that spreads throughout the Berkshires and beyond. This musical-social network links youth to mentoring adults in the spirit of respect, accountability, and accomplishment.
At the core of Rock On, is an outstanding faculty and roster of guest artists who bring together a wealth of experience in contemporary music. We work with youth ages 8-21 and welcome all levels of playing from absolute beginners to advanced players.
We offer instruction in guitar, bass, drums, piano, voice, winds, brass, and strings.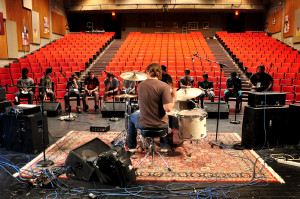 All participants are placed in bands immediately. The bands work as teams selecting songs to play, often writing original material, attending workshops, and performing. Our approach is to coach the bands in a professional, but laid back, atmosphere to jump start the process of ensemble playing with a sense of accomplishment.   In workshops, students play a wide variety of musical genres and styles including rock, jazz, bluegrass, world music, and Afro-Cuban drumming. All bands perform on our Friday concerts.
Guest artists such as rocker Barry Goudreau formerly of BOSTON, guitarist Matt Beck of Match Box Twenty, Pat Pattison, Professor of Songwriting at Berklee, and  Afro-Cuban drumming expert: Eddie Ade Knowles, Professor of Practice at RPI, are just a few of the professionals who have shared their talents and wisdom during our Rock @ NOON concert series.
Rock On established the Rock On College Scholarship award for alum pursuing a professional career in music.  The first scholarship was presented to singer Dylan Waterhouse who is now a junior at Berklee College of Music, The 2013 recipient is singer songwriter Walter Burmer now a freshman at Berklee.
Location
Berkshire Community College
1350 West Street, Pittsfield MA
Sponsors
Sponsorship allows RockOn to provide scholarships, instruments and opportunities for students to participate in the program. It also helps RockOn to provide college scholarships to RO alumni pursuing musical careers and studies.
2015 Sponsors and supporters include:
Cultural Resources Foundation
Sweet Water Sound
Unico National
Berkshire Community College
Wood Brothers Music
Cheryl Wendling
John Skedgell
Atty. Patrick Gable
Atty. Janet Smargie
Greylock Credit Federal Union
Savino Empire Monuments, Inc.
Jerome V. Connoy
Ralph Wendling Jr.Sewer Service
Wendling Enterprises
Willie Singleton
Victoria Williams
Haddad Dealership
Mazzeo's Ristorante
Basil Michaels, M.D.
Melanie Degiorgis
Ann Stergis
Precious Metals
Peter Abell
Summer Ostellino
Crowne Jewelers
Jays Modern Bends Muffler & Auto
William & Sherry Koziara
Squaw Peak Travel
Berkshire Auto Group
P.H. McLaughlin
Carol Carmel
Dery Funeral Home
Paul L. Cantarella
Universal Payroll Associates, Inc.
Constance Morrison
Piretti Real Estate
Elaine Charland
Stan Wojtkowski
Kel's Auto
Nicolene Mary Wendling
Jean LaForest
John Pulver
Sue Schwartz
Courier Printing