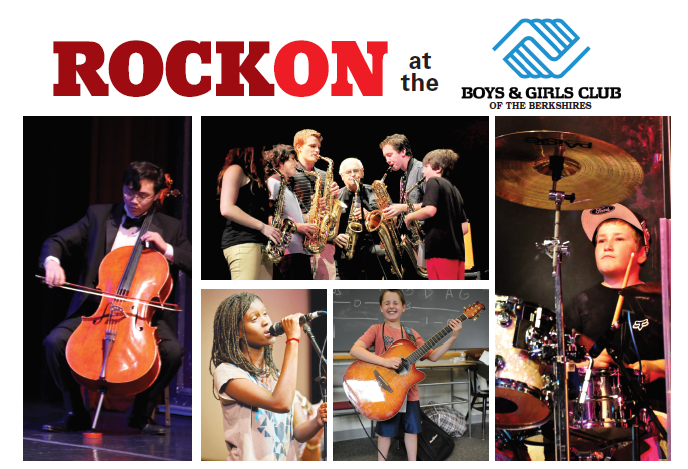 Join us for Open House on Monday, September 28, Wednesday, September 30 or Thursday, October 1 at 3:30 with Jay Fruet, Jerry Giguere, DJ Young Champ, and UBU Theater directed by Ann Gallo. Register at the BGC in person at 6 Melville Street, Pittsfield, or call (413) 448-8258. We will also offer exploration sessions so PBG members can try out instruments for the first time.

Register at the BGC in person at 6 Melville Street, Pittsfield or call the BGC at 413-448-8258. Participants must join the Boys and Girls Club.
Annual Fee: $10 • Fee to participate in Rock On: $10
For more information contact Mary Talmi: rockonworkshopma@gmail.com • rockonworkshop.org • 413-329-2280
---
"Eleanor Rigby" – Rock On Week 1 video!
---
Rock On 2015 Welcomes Guest Instructors…
We're pleased to welcome several guest instructors for our 2015 youth workshop
Solo violinist Yevgeny Kutik
Guitar virtuoso Emil Werstler
Metal drummer Mercedes Lander
Grammy-nominated singer-songwriter Seth Glier
Greg Drew, vocal coach to Lenny Kravitz, Avril Lavigne, Corey Glover and many other top vocalists.
---
New!  String Chamber Music Workshop

Violinist Alla Zernitskaya will direct a two-week String Chamber Music Workshop at Rock On's 2015 summer workshop in the Berkshires.  This program is for violin, viola, cello and double bass players 10-21 years old.  Activities include score reading, group coaching, ear training, and chamber music rehearsals.  Solo violinist Yevgeny Kutik will guest.  The focus is on classical music with crossovers into jazz and rock.  String players will participate in Songwriting and Recording workshops and Friday performances.