OnStage Live! Musical Theater Workshop for Teens
Rock On is teaming up with Berkshire Music School to present OnStage Live! Musical Theater Workshop for Teens, with James Warwick and Sherri James Buxton.  The workshop will run during the second week of Rock On's 2016 summer workshop, from July 18-22.
Have you registered for Rock On 2016 yet?  Head to the Register page and sign up with our easy-to-use electronic registration form!
---
Register for Rock On 2016!
Registration for Rock On's Summer 2016 Workshop is now open.  The program will be held July 11-15 and July 18-22 at Berkshire Community College.  Use our easy-to-use online form to register today!
Register for Rock On Workshop 2016
---
End of Winter Band Summit
Rock On Workshop invites ALL Berkshire County schools and young musicians in bands to participate in an "End of Winter Band Summit and Jamboree" at the Pittsfield Boys and Girls Club 'Lighthouse',  7pm – 10pm April 29.
We invite schools to send a representative band, any self-formed bands, solo artists, or a school jazz band or choir. All musical style's and genres are welcome-rock, jazz, blues, folk, etc
This social event will be open to the general public. The musicians will perform a variety of musical styles. DJ YoungChamp Dias will provide music between sets.
Admission will be $5.00 for the general public and $2.00 for students with a student ID. Snacks & soda will be available for purchase.
Click HERE to sign up.
All participating bands will be entered in a drawing to win prizes.
Participants would be asked to promote the event by putting up posters supplied by RO and mentioning this in their newsletter. We hope to make this a monthly event.
The Pittsfield Boys and Girls Club offers after school Rock On sessions as a special activity. It is $10 to join the Pittsfield Boys and Girls Club and only $10/yr. to take part in Rock On with Jay Fruet, Jerry Giguere, and DJ Young Champ.
For more information contact Jay Fruet: 413-442-5519
---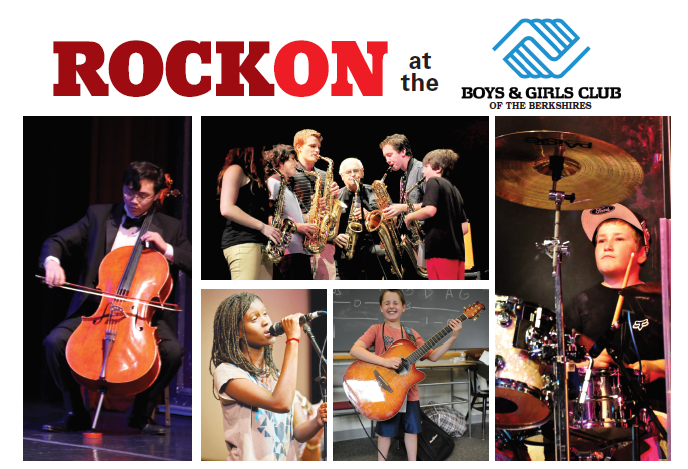 ---
---
Rock On 2015 Welcomes Guest Instructors…
We're pleased to welcome several guest instructors for our 2015 youth workshop
Solo violinist Yevgeny Kutik
Guitar virtuoso Emil Werstler
Metal drummer Mercedes Lander
Grammy-nominated singer-songwriter Seth Glier
Greg Drew, vocal coach to Lenny Kravitz, Avril Lavigne, Corey Glover and many other top vocalists.
---
New!  String Chamber Music Workshop

Violinist Alla Zernitskaya will direct a two-week String Chamber Music Workshop at Rock On's 2015 summer workshop in the Berkshires.  This program is for violin, viola, cello and double bass players 10-21 years old.  Activities include score reading, group coaching, ear training, and chamber music rehearsals.  Solo violinist Yevgeny Kutik will guest.  The focus is on classical music with crossovers into jazz and rock.  String players will participate in Songwriting and Recording workshops and Friday performances.